Image: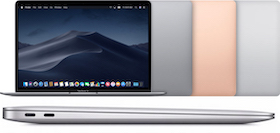 2018 Apple MacBook Air 13"
Give us a few details about your computer to help us provide you with the highest quote.
Text:
PLEASE NOTE: This is the newer model that was sold from October 2018 to July 2019. It has just TWO USB-C ports on the left side and a headphone jack on the right - nothing else. The EMC number on the bottom is 3184. If you bought yours before October and have more ports, and the EMC on the bottom is 3178, you have the 2017 model.